Coastal Interiors
Archive for the 'Coastal Interiors' Category
Interior Designer Photo Shoot of Molino de Agua Condo in Puerto Vallarta, Mexico
We recently just completed an interior design project in Puerto Vallarta at Molino de Agua. Molino de Agua is one of the newest and most luxurious condo properties available in Puerto Vallarta at the moment and it is convenient and close to everything in Old Town. If you are visiting for the first time, I would highly recommend this property since many of the owners there rent them out. It has great security, a private pool and is only steps to the beach, restaurants and shops. Designing a condo or home in Puerto Vallarta can be a challenge since there are not many places to go for furniture and fabrics like there are in the United States and Canada. There are a few interior designers in Puerto Vallarta but not many. Our first job there several years ago required many months of research and a lot of time in both Puerto Vallarta and Guadalajara finding sources to select furnishings for our clients. After finding woodworkers, upholsterers, contractors and visiting the Guadalajara Furniture Show we were then able to offer our clients more options than they would have had otherwise in Puerto Vallarta alone. Many of our clients purchase homes or condos in Puerto Vallarta and don't have the knowledge or know how to complete a newly purchased property. This is where our experience comes in and we can save you a lot of time, money and headaches if you haven't owned in Puerto Vallarta before.
The Interior Design Style for the Project
For this interior design project we used a lot of blue and kept the furnishings modern and streamlined yet comfortable and casual. We used slipcovers on the terrace chairs for easy cleaning and used fabrics and decor that included sea life, coral and seashells. We also combined old and new pieces such as the stone and coconut palm pots. An antique door was used as the table top for a pair of stone ram bases and a collection of Mexican figurines were used on the ET center and floating shelves above the TV. Walls were given texture with the use of Venetian plasters and stone veneers. We added strip lighting in the ceiling to add a nice glow and light at night. Take a look at the finished interior design project and let us know what you think.
Looking for an Interior Designer in Puerto Vallarta?
If so, we are interior designers in Puerto Vallarta don't hesitate to contact us to discuss your interior design project. Christopher James Interiors has completed several properties in Puerto Vallarta over the last few years and we are able to design your place in a variety of different interior design styles from traditional Mexican to coastal modern.
Beach, Nautical and Coastal Interiors
Decorating interiors on the beach is always one of my favorite locations to work. You can't get much better than working on the water. I am so inspired by the water, sand and sea life that comes from this type of living. If I had to choose just one place to work…it would have to be the beach. There's something serene and peaceful with the sounds of ocean waves crashing and seagulls squawking. As an interior designer in Orange County, California, my work has taken me to several homes near the water. From East Hampton, New York to Puerto Vallarta, Mexico. When designing a beach house or home on the water it only makes sense to bring the water elements into the interior design.
If you are wanting to create a comfortable and laid back look to your coastal interior design project then read further for some key elements of coastal interiors.

Take a look at some of our completed projects on the beach (click on the links below to view)…
Emerald Bay, Laguna Beach, California
If you have never experienced the beach on a personal level, look at magazines dedicated to coastal destinations, or better yet, contact a Coastal Interior Designer to take all the guess work out of it for you!
Key Elements of Coastal Interior Design
Furniture

Coastal interiors and decorating on the beach mean different things to different people when it comes to choosing the furniture style. The most important thing is to keep the design casual and simple. Use materials such as reclaimed wood, bamboo or wicker furniture and keep in mind certain types of wood aren't recommended for ocean air. Try to incorporate stripes and patterns that relate to the beach. For example, use navy blue and crisp white for that nautical look. Linen fabrics are also a good choice for drapery and pillows.
Walls
Keep your wall colors light and airy. This will help bring the true coastal experience into your home. Soft color palettes work best for homes on the water. Although I don't typically like white walls…on the beach it gives you that clean, crisp feel. White also works well as an accent on such architectural details such as wainscoting.
Windows
Less is better when considering a coastal interior design style. However, if you are seeking privacy there are many window treatments available that can marry the two together nicely. White shutters are a good choice as they will not only compliment the wainscoting, but will also provide you privacy when needed.
Flooring
Stick with hard surfaces when decorating on the beach by using hardwood floors or tiles. Clean and simple and uncluttered is best. Lighter colors for hardwood and throw rugs will help bring the room together as well as hide the sand that may be tracked in from the beach.
Accessories
This is a great area to bring in the details of coastal interiors. Add small touches here and there that will bring these elements to life. Add a net, use some rope or bring in some shells. Stay on the lookout as you're walking on the beach…an old piece of driftwood that has weathered from the constant beating of the waves is a great accent. Use some live tropical plants such as giant birds of paradise or a kentia palm. Use images of sailboats or rope in your artwork as shown below.
Coastal Interiors, Coastal Interior Design and Decorating on the Beach
Some Inspiration for using Turquoise and Orange in Your Interiors
There's nothing like the combination of turquoise and orange to make a room come alive. Although not a color combination you see every day in the interior design world, if you want that pop of color, this just may be the color scheme for you. These two colors tend to take me to the beach. They also remind me of a Caribbean trip I took a few years back to Old San Juan, Puerto Rico with the vibrant exteriors of the homes there. So whatever it is, I'm drawn to it and when I find my perfect dream beach bungalow (pictured below…I wish!)…these two colors are going to get a room all to their own.
Turquoise

and

Orange

on the Beach
What a life! Can you imagine waking up here and having your morning coffee!? Here are a few beach inspired interiors using turquoise and orange…
I love the pale blue walls in this room with the black and white artwork. These two colors work great as just an accent against the bright white wainscoting and sofa. Gives it such a crisp and clean look.
This is a color palette from design-seeds.com. This is a great website to come up with some beautiful color palettes. This butterfly fish has all the colors in it to inspire and create a colorful beachfront retreat.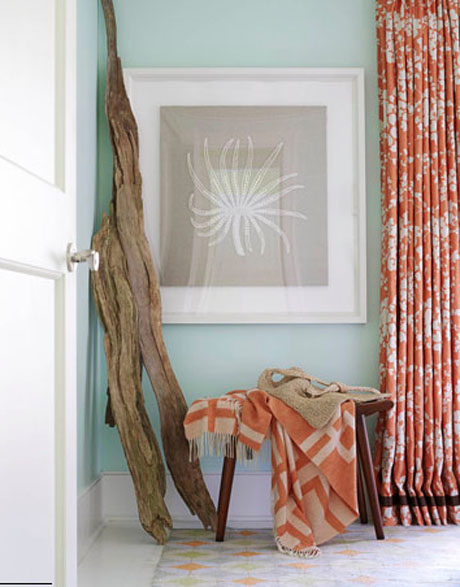 This is so beautiful! I'm liking the color of these walls too…with the embroidered sea fan on a piece of burlap in a shadow box as artwork. The driftwood gives it a natural and organic feel.
Another color palette inspired by a grouping of seashells.
This vignette has such an eclectic feel with the combination of unique pieces. The orange elephant legged console table stands out beautifully in front of the aqua blue and white striped walls. The seashell lamps give just a touch of a coastal feel.
A modern take on coastal interior design with the streamlined white lacquered console table and frames showcasing sea fans. Walls in a dark brown faux linen finish makes these lighter pieces really stand out.
Asian Fusion Interiors using

Turquoise

and

Orange
This bedroom design uses the color combination in a bold and vibrant way. Compared to some of the other interiors that go on the lighter more subdued end of the spectrum. I like both, and this room has a zen-like Asian flare with the use of the figurines and the pagoda style lamp base.
Here's an Asian inspired living room design, but this palette is much softer and serene looking. The Chinoiserie throw pillows are set atop a classic french style sofa covered in a casual burlap style fabric. The gold bamboo coffee table adds another element to the interior design.
Bedroom Interiors using

Turquoise

and

Orange
This bedroom design uses the blue on the walls and accents with orange pillows and drapery. Just enough without overdoing it.
This bedroom has a lot going on but I love the dark brown walls and the striped ceiling. It has a tropical feel with the palm linen print headboard and drapery, white caned bench at the end of the bed and the zebra rug.
A complete contrast to the previous bedroom design, this bedroom sets off the colors using the bright white walls and floors. Very clean, crisp and fresh!
This vignette brings the ocean inside with the use of shells on the table. The zebra ottoman introduces an African flare. Kind of a juxtaposition of styles but it works. Where's the turquoise you ask…I know…so we'll just say there's a drop of blue in the wall color! 😉
I absolutely love the color of this door! This is the type of vibrant color you see in Old San Juan, Puerto Rico. Again, I used the "Chip It" button to create the palette for this photo.


Another vibrant combination of these colors. Most of the rooms using this color palette do the turquoise on the wall but if you want to get bold try reversing it. This room looks like it wood be on the other side of the door above.


What a great painting to backdrop this white sofa. This is inspiring me to get out my canvases and paint! Just in case you're not inspired yet, here are a few mood boards to get you going…
Turquoise

and

Orange

Inspiration

Love the drapery in this room with the coral border design. Pillows with a great pattern and some gerber daisies to complete the look.
Turquoise

and

Orange

Fabrics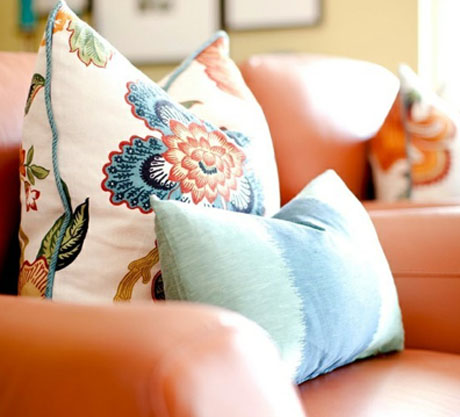 These fabrics are from the Indoor/Outdoor Taza Collection…a lot of great designs for your outdoor furniture.
So with all of this turquoise and orange inspiration, I know I'm ready to start a project using this color palette. Have you used these two colors in one of your projects? I'd love to see what you've done using these two beautiful colors.

Subscribe in a reader
Image Sources:

Pinterest

,

Houzz

,

House of Turquoise

, Morgan Harrison Home, Lonny, EJ Interiors, Emily Followill,

House Beautiful

,

Design Seeds

,

Elle Decor
Coastal Interiors and Decorating with Giant Clam Shells
As an interior designer in Orange County, California, I have worked on several beach homes along the coast. During this time, I've grown to love many of the materials and colors used in coastal interiors. One of my favorites uses of sea life is decorating with giant clam shells. I've been collecting and clipping photos of these and today decided to share some of my findings. I have always loved some of the applications for their use in interior design and last year when I started a project in Puerto Vallarta, Mexico overlooking the ocean, it only made sense to bring some of the vibrant blues and varieties of sea life into the home. I really wanted to incorporate one of these giant clam shells into the interior of the home. As I began my search I found the price of these giant clams to be quite costly…up to as much as $900 for half of the shell! I used the giant clam shell on the side of a large spa like bath tub and put sponges and towels in it. In my search I came across several different uses for these beautiful giant clams from sink vessels to planters. Below are some of my favorite photos that I collected during my search. Have you done any decorating using giant clam shells in your coastal interiors? I'd love to hear what you think and would love to see some of the different applications you've used!

Below are Photos of Coastal Interiors and Interior Designers Decorating with Giant Clam Shells
This is a bathroom by Barry Dixon. I love the neutral colors, zebra ottoman and giant clam shell in the shower.
A beautiful clam planter filled with an array of succulents. This would make a great center piece on top of a buffet or dining table.
Speaking of center pieces, this giant clam serves as a planter with greenery in this black and white dining room.
Beautiful outdoor vignette showcasing a giant clam with succulents and surrounded by an array of stone accessories and accents.
In this powder bathroom the clam is used as a vessel sink on top of a mirrored vanity. The backsplash is mother of pearl tile and the mirror is framed using small shells and starfish attached to the frame.
Try decorating with giant clam shells in your coastal interiors
Subscribe in a reader