Bedroom Design
Archive for the 'Bedroom Design' Category
What Do You Think of Black and White Interiors?
There is something so crisp and clean about black and white interiors. The simplicity and contrast using both ends of the color spectrum are used over and over in interior decorating and design. It's a classic look that remains timeless and that's why we love it so much. Here are some of our favorite interior photos using black and white…
Black and White in the Dining Room
Typically people are apprehensive when it comes to painting walls black, however, with the contrast of a white ceiling, drapery panels, artwork and furniture, it brightens up the space and makes this dining room feel spacious and dramatic. Don't be afraid to go dark on the walls, but just remember, you need to contrast the room with lighter colors so that your room doesn't turn out too dark.
In Kitchen Design
This modern kitchen also incorporates a bit of gray which softens the stark contrast of black and white interiors. If you want to add a pop of color to your black and white interiors, try adding yellow or red. In this kitchen, a simple bowl of lemons adds a pop of color to the room and gives the room a fresh look.
Black and White in Bedroom Design
This black and white bedroom design adds warmth by using a mid-range taupe wall color. Painting the fireplace accent wall in black creates a focal point in the room. Again, notice the fireplace and art are white so they contrast the black wall. For a lighter feel, a white upholstered bed would lighten the room, but a dark room always creates a cozy and relaxing place to sleep.
In the Living Room
The use of black and white in this living room interior creates a light feel since the use of black is used more sparingly. It's also a room that has a lot of natural light with the large windows. Adding accents of black in the drapery trim and pillows, it keeps the space open and airy. The use of geometric patterns in the pillows and rug also gives the room a bold and interesting look.
Have you just completed a project using black and white? Let us know what you think of black and white interior decorating and if you'd use this color scheme in your home. We'd love to see what you're working on using this color combination. Please feel free to share your design photos and add any suggestions that you like to use in your black and white interiors.
In case a thorough or partial living room makeover is on your list of changes for this year (and it definitely should be), you will have to make quite a few tough choices and decisions soon. But what if you are still uncertain as to what and how to modify your living room to make it more appealing? Fret not – we have five suggestions here on how to spruce up your living room décor and turn your family's favorite room into a place of relaxation, style and comfort.
1. Define your Living Room with an Area Rug
If your living room floors are bare or you have old, shabby carpeting that has lost its appeal, add an area rug to freshen up the ambiance and organize the space into visually separate units. A carefully selected area rug will freshen up the room far more efficiently than a handful of colorful accessories – and the best thing is, you can use it even if you have wall-to-wall carpeting. Depending on the room color scheme, you can buy a tasteful monochromatic mat in a light tone that will instantly brighten up the atmosphere. If you want to add visual interest and liven up plain décor, however, pick an area rug with a geometrical print with shapes in contrasting tones.
2. Add Style with Modern Window Blinds
Another easy trick to revamp your living room look, modern window blinds will add a note of style to your décor while at the same time keeping out intense sunlight and nosy parkers. On top of boosting privacy and creating a snug atmosphere, contemporary shades and blinds are much easier to maintain and they also have a longer lifespan than regular curtains and drapes. In case you are not sure as to which type would go best with your room look (e.g. Venetian blinds, Roman shades, vertical or horizontal blinds), you can find discount blinds online and pick window shades that complement your room in terms of colour, texture and furnishing materials.
3. Add Something Living
A popular 2015 décor trend likely to hang around in the year to come, use of living elements such as potted plants, terrariums, flowers and herbs will add a fresh note to your living room. On top of its stylistic features, plants are also an extremely healthy addition to any indoor area as they release oxygen and absorb carbon dioxide, thus improving the quality of the air you breathe and boosting your focus and mental capacities.
4. Use Art to Create a Focal Point in the Room
Transform a plain wall into a focal point in the room by decking it with artistic details such as paintings, vintage mirrors or inspiring photos. Accent walls offer an affordable and easy way to add visual interest to your living room, and they also allow you to be creative and add a personal touch to your space.
5. Improve Lighting
Make the year ahead a time of light and positivity by upgrading your living room lighting. You can do this by adding a chandelier to your shabby chic room, installing dimmer switches or getting a couple of vivid lampshades. When choosing new lamps, go after the ones with sturdy bases and colourful shades that will create a romantic ambiance and add vibrancy to the room.
If you feel like your home could use a change, you are probably right. Do not start the year to come with old décor – the biggest changes start off small. A living room makeover may be the easiest way to kick off 2016 with a fresh attitude to life.
About the Author
Amy Mia Goldsmith is a literature graduate from Melbourne with a lot of different interests in life. She and her husband love DIY projects and design. You can also contact her at her Twitter account.
Images via Houzz
Bedding Ideas to Make Your Bedroom Design Comfortable and Modern
We love beautiful beds as they are the focal point in every bedroom design. They have a romantic allure that just makes you want to stay in bed all day long. But what makes a bedroom enticing? Is it the décor of the room, the ambiance, the bedding, or maybe all of these? Experts would say that the most comfortable beds have the softest bed sheets, and they couldn't be more right. We all love to cuddle up in a cashmere blanket on a cold winter evening don't we? Here are some bedding ideas you might want to consider to spice things up in the bedroom.
Choosing the Best Bedding Materials to Create a Beautiful Bedroom Design
Everyone makes compromises in life, however when it comes to selecting items on which you spend nearly one third of your existence, there can't be any compromise in quality. Investing money in top quality bedding may seem like the most expensive deal, although as far as a perfect night's sleep is concerned there's no such thing as expensive bedding. The most important aspect that sets the quality of bedding set is the material.
There's no secret that Egyptian and Pima cotton are the finest as far as comfort is concerned. Obviously, in case you can't afford the finest type, feel free to check out additional varieties. You are advised to avoid synthetic materials though because they could be harmful to the skin, causing allergies.
Go Bold in Your Bedroom Design
Deluxe bedding means modernist designs and colorful accents. The bed is the first thing people see when walking into your master bedroom or guest room. It has to look impeccable, and ultimately feel comfortable. For a bed to make you think of comfort and relaxation it has to appear enticing; it has to make you feel calm and happy in an instant. Quality materials and a warm combination of colors can make that happen. Select textures and hues that you absolutely adore, and make sure to opt for groovy fabrics and interesting covers.
The finest, most luxurious linens are ideal whenever you want to create layers and add a little exotic sophistication into the mix. It's key to have seasonal options, and layering is the best alternative. For example, to make things appear more varied you could swap them periodically, or switch duvets for quilts when it's too cold.
Choosing the Right Pillows
Prior to deciding on a pillow, assess the shape of your head. Lift the head, straighten the spine, look forward and feel your neck's base with the fingers. Medium thick pillows are perfect for concave shapes of the spine, while if you have a flat back you should go for a softer pillow. The main benefit of an excellent pillow is its capability to support the cervical spine and head when you sleep. People suffering from back pain should have a harder bed as well as an orthopedic pillow and mattress. The height is determined by the shape of your body. Wide shoulders and a longer neck ought to have higher pillow to fit the frame.
Qualitative, Extraordinary Blankets
Before investing in a blanket make sure it preserves warmth. It has to be air-penetrable and water-resistant. A duvet for example, is an excellent choice. It is lightweight, comfortable and it absorbs sweat really fast. However you should be careful as it becomes damp just as fast thus triggering allergies. Square-stitched duvets made of duck down or goose materials are ideal; of course, there's a more expensive alternative called eiderdown, although very few can afford it.
A blanket made of wool comes with many benefits too. The fibers are resistant, thus creating support for your muscles, black and joints. Wool is an excellent material type for both the hot and cold seasons. In terms of design, you have many options available. You are advised to opt for warmer shades that are similar to the rest of your bedroom design. Burgundy and gold are killer combinations; they'll give a royal allure to your bedroom thus making it appear luxurious and comfortable.
There are so many ideas one can use to make their beds cozy, modern and beautiful. Use the ideas we mentioned above, stay focused on quality materials and pick warm colors. This way you'll have the best bed and sleeping in it will become a real pleasure.
By Daniel Lewis and VanessaArbuthnott.co.uk!
Images via Houzz
The Latest and Greatest Home Decor Trends
It can be difficult to keep up with the current home décor trends. The good news is that certain tendencies are timeless. Would you go for ageless styles over seasonal ones? Here are 10 home decor trends that will help you make the smartest choices for your home.
Wooden Wallpaper
In 2010, wooden wallpaper was in high demand. The pattern is both serene and alluring. Classic, symmetrical and simple, this décor idea will instantly transform a boring living room into a revolutionary space. The trend is ideal for people who want to give their homes a cottage-like feel.
Midcentury Starburst Mirrors
Starbursts mirrors are one of the most used home decor trends. They add a touch of vintage to a room but without making the space appear old-fashioned. There are numerous styles and designs you can go for. Even the simplest, most conventional model will transform a dull hallway into a beautiful environment.
One of the Best Home Decor Trends are Butterflies
Butterflies are not just for kids' bedrooms. This insect choice can fit into the most sophisticated dining rooms too. Nature-inspired décor items will never go out of style and one of the most popular home decor trends currently being used. There are so many chic ideas you can consider, such as butterfly paintings or 3D butterflies for the bedroom.
Minimalistic Accents
Whether it's 2010 or 2015, it's never too late to abide by the principle "less is more". Keep your living area's design as simple as possible, and don't overcrowd your shelves with all sorts of accessories. Stick with furniture elements that are proportional and thus your home will look organized and stylish.
Accent Coloring
Colors that are in trend change from season to season. It's always a good idea to spice things up in the home and insert color combos you've never had before. Instead of buying an orange couch or painting the walls in pastel blue, why don't you consider accessories to add a pop of color? Throw pillows, new curtains made of the finest curtain fabric, rugs and flower pots are a better choice.
Functional Furniture
In a magazine every angular chair looks trendy and innovative. However, it is not comfortable and you probably won't even use it; not to mention that in 6 months it won't even be in trend anymore. The exact same thing goes for unconventional coffee tables, which are too delicate to be used. It's ok to want to have a stylish living room, but you need items that are both appealing and functional.
Focus on Comfort
Comfort is a fundamental factor when purchasing furniture. If you are compelled to replace a couch just because it's not relaxing, then that piece is not timeless. Make a smart investment and go for a couch that looks good, but feels good too.
Quality over Quantity
It's nice to have plenty of shelves in the kitchen or living room, but that doesn't mean you should fill them with all sorts of objects. Choose your accessories or art pieces with extreme care. Shop for less and focus on a nice simple collection of objects paired with books. This way your home will have a modern, chic allure rather than a chaotic look.
New Curtains
If you want to add freshness into your home but you don't have a big budget, you can always change the curtains. Stick to timeless palettes of gray, black, white or red. These can have discreet patterns and prints too. It is equally important to select a good quality curtain fabric. This way they'll last longer.
Durability
Whenever we choose to redecorate our homes, it is important to consider elements that can stand the test of time. Focus on durable items that you can use over and over again, and avoid low quality items that scream kitsch. Shop wisely, invest in well made accessories, and your home will look trendy without forcing you to spend a fortune.
Do you think it's time to give your home a makeover? Are you bored with the current décor? Using some of these home decor trends will add style to your interiors without breaking the bank. Seasonal flowers, rugs, linens and accessories are everything you need to transform a dull home into the chicest, most elegant environment.
By Alfred Stallion and VanessaArbuthnott.co.uk
10 Stylish Home Decor Trends and New Decorating Trends for 2016
How To Incorporate The Elements Of Feng Shui Into your Home
Incorporating Feng Shui into your interior design brings balance and good fortune to your home. More than just picking attractive furniture and decor, the placement and arrangement of furnishings and accessories, as well as deliberate color combinations, can make a significant difference in the "Qi" or energy of the room.
However, you still want to make sure that your Orange County home is visually appealing and functional, so you will want your Feng Shui interior design to balance the basic beliefs of the Eastern practice along with modern tastes.
Below are a few tips on how to improve the energy in your house and bring luck to your life, while adding the decorating flairs and touches that gives your home personality:
Position Furniture Carefully
This tip is both practical and feng shui-related: careful positioning of furniture improves the energy's flow throughout the room. Furniture should not prevent free passage through the room as this blocks both your daily path and the Qi from flowing naturally. Ideally, seating areas should be flush with a wall, instead of facing a walkway or another room.
Separate Work and Rest Areas
Avoid setting up a work office in your bedroom. The energy of a work space will prevent you from getting a good night's sleep if it is set up in the bedroom.
Lighting
Light plays a major role in feng shui, as it is a major source of good energy. Soft lighting is linked with positive energy which wall sconces provide. Without proper illumination, carefully picked color combinations, decor and furniture may not be as effective for a feng shui lifestyle. Our eye tends to be drawn to where the light is shining, so by spotlighting certain objects and areas, you are able to support your intentions. Avoid dark corners, which can absorb and stall the flow of energy, by filling them with a source of soft light.
De-clutter
Clutter is considered to be a major burden in feng shui. De-cluttering is believed to be absolutely fundamental to ensuring balance in the home, as clutter blocks the flow of energy. On a practical level, clutter can lead to increased stress levels.
Remove clutter from all rooms in the house. One of the best places to start is the bedroom, where you want the most relaxation as possible. Create a "keep", "relocate" and "trash" pile for all the items littered on the surfaces and floors of each room. Then, relocate the items to their proper locations, and throw away the trash. Organize the "keep" items into drawers, shelves or labeled boxes for easy access.
Mirrors
A key accessory in feng shui interior design, mirrors are believed to reflect positive energy and prevent the flow of negative energy. Placement is key, however. Avoid putting a mirror facing the front door, as you don't want to bounce the positive energy entering the house to creep its way out. Mirrors should also be used sparingly (if at all) in the bedroom. Bedrooms are considered calm spaces with more yin energy; mirrors bring a lot of yang energy, canceling out the calming yin needed in the bedroom.
Live Plants, Fresh Fruit and Cut or Potted Flowers
Indoor plants, floral bouquets and fresh fruit all generate positive energy. Potted plants also represent earth and wood elements (two of the five elements needed for harmony and balance).
However, you should avoid using dried flowers. Dried flowers are considered sources of bad energy in feng shui as they represent something that is dead. Throw away all dead or dying plants, including wilting flowers. The exception is if the dried bouquet is a keepsake from someone dear to you, then the energy associated with it is positive.
Add a Water Feature
Considered a symbol of wealth and prosperity, it is important to incorporate water elements in your feng shui decorating scheme. A water feature is an eye-catching way to add two of the five essential elements of feng shui (wind and water). Whether you choose a water fountain, a water wall or a fish tank, a water feature is a soothing focal point to any room, promoting relaxation. Be careful not to add water features to the bedroom as it can introduce the element of worry.
Mix Up Your Shapes
Each shape represents a different feng shui element: square (wood), round/oval (metal), striped and floral (wood), wavy (water) and pointy (fire) shapes all need to be present in your accessories and decor to ensure balance. Mixing and matching is not only an excellent way to bring harmony into your living space, but it also adds depth and dimension to your interior design.
Choose Colors Carefully
Intentionally choosing the right colors for each room is key in feng shui, as each color and color combination represent different types of energy. Green is linked with hope and nature, yellow with power and red is considered auspicious. Orange helps create an atmosphere of ease and promotes conversation in large groups of people, making it an ideal color for living rooms and other areas where you plan on hosting guests. Blues and greens can also help promote a calm atmosphere, which are perfect for bedrooms and other locations designed for relaxation and rest.
With these simple feng shui tips, you can improve balance and harmony in your home and life all without having to invest in crazy interior design schemes or busts of Buddha and other auspicious statues. Just keep in mind the importance of the flow of energy and incorporate a few well-chosen and well-placed accessories to fully reap the benefits of feng shui.
Marcela De Vivo is a freelance writer, yoga enthusiast and business owner in the Los Angeles area. In addition to incorporating feng shui into her yoga and meditation room, she also includes the elements of feng shui throughout the rest of her home. Follow her on Pinterest today!
Beach, Nautical and Coastal Interiors
Decorating interiors on the beach is always one of my favorite locations to work. You can't get much better than working on the water. I am so inspired by the water, sand and sea life that comes from this type of living. If I had to choose just one place to work…it would have to be the beach. There's something serene and peaceful with the sounds of ocean waves crashing and seagulls squawking. As an interior designer in Orange County, California, my work has taken me to several homes near the water. From East Hampton, New York to Puerto Vallarta, Mexico. When designing a beach house or home on the water it only makes sense to bring the water elements into the interior design.
If you are wanting to create a comfortable and laid back look to your coastal interior design project then read further for some key elements of coastal interiors.

Take a look at some of our completed projects on the beach (click on the links below to view)…
Emerald Bay, Laguna Beach, California
If you have never experienced the beach on a personal level, look at magazines dedicated to coastal destinations, or better yet, contact a Coastal Interior Designer to take all the guess work out of it for you!
Key Elements of Coastal Interior Design
Furniture

Coastal interiors and decorating on the beach mean different things to different people when it comes to choosing the furniture style. The most important thing is to keep the design casual and simple. Use materials such as reclaimed wood, bamboo or wicker furniture and keep in mind certain types of wood aren't recommended for ocean air. Try to incorporate stripes and patterns that relate to the beach. For example, use navy blue and crisp white for that nautical look. Linen fabrics are also a good choice for drapery and pillows.
Walls
Keep your wall colors light and airy. This will help bring the true coastal experience into your home. Soft color palettes work best for homes on the water. Although I don't typically like white walls…on the beach it gives you that clean, crisp feel. White also works well as an accent on such architectural details such as wainscoting.
Windows
Less is better when considering a coastal interior design style. However, if you are seeking privacy there are many window treatments available that can marry the two together nicely. White shutters are a good choice as they will not only compliment the wainscoting, but will also provide you privacy when needed.
Flooring
Stick with hard surfaces when decorating on the beach by using hardwood floors or tiles. Clean and simple and uncluttered is best. Lighter colors for hardwood and throw rugs will help bring the room together as well as hide the sand that may be tracked in from the beach.
Accessories
This is a great area to bring in the details of coastal interiors. Add small touches here and there that will bring these elements to life. Add a net, use some rope or bring in some shells. Stay on the lookout as you're walking on the beach…an old piece of driftwood that has weathered from the constant beating of the waves is a great accent. Use some live tropical plants such as giant birds of paradise or a kentia palm. Use images of sailboats or rope in your artwork as shown below.
Coastal Interiors, Coastal Interior Design and Decorating on the Beach
Some Inspiration for using Turquoise and Orange in Your Interiors
There's nothing like the combination of turquoise and orange to make a room come alive. Although not a color combination you see every day in the interior design world, if you want that pop of color, this just may be the color scheme for you. These two colors tend to take me to the beach. They also remind me of a Caribbean trip I took a few years back to Old San Juan, Puerto Rico with the vibrant exteriors of the homes there. So whatever it is, I'm drawn to it and when I find my perfect dream beach bungalow (pictured below…I wish!)…these two colors are going to get a room all to their own.
Turquoise

and

Orange

on the Beach
What a life! Can you imagine waking up here and having your morning coffee!? Here are a few beach inspired interiors using turquoise and orange…
I love the pale blue walls in this room with the black and white artwork. These two colors work great as just an accent against the bright white wainscoting and sofa. Gives it such a crisp and clean look.
This is a color palette from design-seeds.com. This is a great website to come up with some beautiful color palettes. This butterfly fish has all the colors in it to inspire and create a colorful beachfront retreat.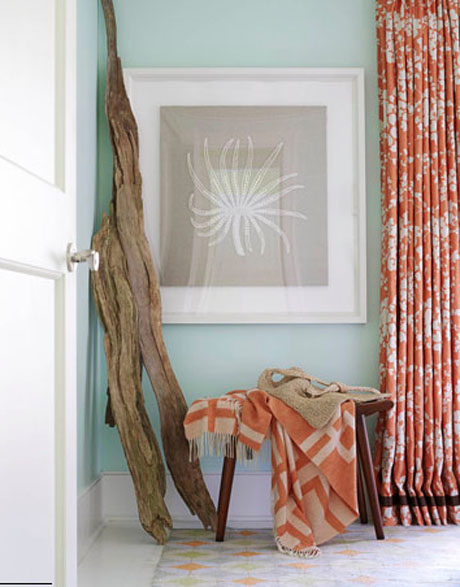 This is so beautiful! I'm liking the color of these walls too…with the embroidered sea fan on a piece of burlap in a shadow box as artwork. The driftwood gives it a natural and organic feel.
Another color palette inspired by a grouping of seashells.
This vignette has such an eclectic feel with the combination of unique pieces. The orange elephant legged console table stands out beautifully in front of the aqua blue and white striped walls. The seashell lamps give just a touch of a coastal feel.
A modern take on coastal interior design with the streamlined white lacquered console table and frames showcasing sea fans. Walls in a dark brown faux linen finish makes these lighter pieces really stand out.
Asian Fusion Interiors using

Turquoise

and

Orange
This bedroom design uses the color combination in a bold and vibrant way. Compared to some of the other interiors that go on the lighter more subdued end of the spectrum. I like both, and this room has a zen-like Asian flare with the use of the figurines and the pagoda style lamp base.
Here's an Asian inspired living room design, but this palette is much softer and serene looking. The Chinoiserie throw pillows are set atop a classic french style sofa covered in a casual burlap style fabric. The gold bamboo coffee table adds another element to the interior design.
Bedroom Interiors using

Turquoise

and

Orange
This bedroom design uses the blue on the walls and accents with orange pillows and drapery. Just enough without overdoing it.
This bedroom has a lot going on but I love the dark brown walls and the striped ceiling. It has a tropical feel with the palm linen print headboard and drapery, white caned bench at the end of the bed and the zebra rug.
A complete contrast to the previous bedroom design, this bedroom sets off the colors using the bright white walls and floors. Very clean, crisp and fresh!
This vignette brings the ocean inside with the use of shells on the table. The zebra ottoman introduces an African flare. Kind of a juxtaposition of styles but it works. Where's the turquoise you ask…I know…so we'll just say there's a drop of blue in the wall color! 😉
I absolutely love the color of this door! This is the type of vibrant color you see in Old San Juan, Puerto Rico. Again, I used the "Chip It" button to create the palette for this photo.


Another vibrant combination of these colors. Most of the rooms using this color palette do the turquoise on the wall but if you want to get bold try reversing it. This room looks like it wood be on the other side of the door above.


What a great painting to backdrop this white sofa. This is inspiring me to get out my canvases and paint! Just in case you're not inspired yet, here are a few mood boards to get you going…
Turquoise

and

Orange

Inspiration

Love the drapery in this room with the coral border design. Pillows with a great pattern and some gerber daisies to complete the look.
Turquoise

and

Orange

Fabrics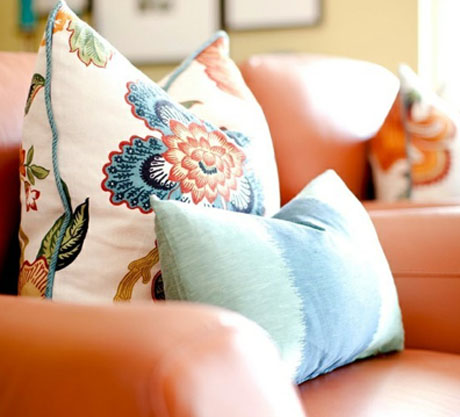 These fabrics are from the Indoor/Outdoor Taza Collection…a lot of great designs for your outdoor furniture.
So with all of this turquoise and orange inspiration, I know I'm ready to start a project using this color palette. Have you used these two colors in one of your projects? I'd love to see what you've done using these two beautiful colors.

Subscribe in a reader
Image Sources:

Pinterest

,

Houzz

,

House of Turquoise

, Morgan Harrison Home, Lonny, EJ Interiors, Emily Followill,

House Beautiful

,

Design Seeds

,

Elle Decor
Do You Need Help With Your Bedroom Interior Design?
With the hectic and stressful lives that many of us lead today, the bedroom is a good place to escape, unwind and recharge. So many times a bedroom ends up being a place of clutter and disarray instead of a haven that it should be. If you dream of turning your bedroom in to a world of tranquility, then why not start today. As one of the top interior designers in Orange County we can assist you with the bedroom of your dreams.

Very little is often put into making the bedroom as aesthetically pleasing as other areas of the house. For many, interior design stops in the main living areas of the home..
Whether you prefer a modern or more traditional style, luxury furnishings can be created to suit your taste so that you never have to compromise on what you really want. From wardrobes to dressing tables, a perfectly designed bedroom can be crafted to reflect your personality and lifestyle.
The importance of a child's bedroom should never be underestimated either. It needs to be comfortable and practical with a little bit of magic to spark their imagination and create a safe and happy atmosphere for play and sleep. You may wish to update the bedroom of an older child for a more sophisticated environment or create an enchanted land for your little prince or princess. Using a colorful palette, interesting materials and finishes, bedroom interior designers can create a stunning room full of wonder for your child.
Our team of experienced interior designers will come to your home to discuss what you want for your bedroom interior design. With your ideas and guidance from our professional interior designers, you can turn your ideas into a reality.
Working together with a team of experts in bedroom design means you are involved at every step of the way so you can rest assured your ideas are being understood and brought to life.
Whether it's adding window treatments and drapery, new custom bedding or a complete bedroom redesign, our Orange County interior design staff can help you achieve the bedroom interior design you've been dreaming of. Contact us today to set up your free design consultation.
Subscribe in a reader