Posts Tagged 'coastal'
Beach, Nautical and Coastal Interiors
Decorating interiors on the beach is always one of my favorite locations to work. You can't get much better than working on the water. I am so inspired by the water, sand and sea life that comes from this type of living. If I had to choose just one place to work…it would have to be the beach. There's something serene and peaceful with the sounds of ocean waves crashing and seagulls squawking. As an interior designer in Orange County, California, my work has taken me to several homes near the water. From East Hampton, New York to Puerto Vallarta, Mexico. When designing a beach house or home on the water it only makes sense to bring the water elements into the interior design.
If you are wanting to create a comfortable and laid back look to your coastal interior design project then read further for some key elements of coastal interiors.

Take a look at some of our completed projects on the beach (click on the links below to view)…
Emerald Bay, Laguna Beach, California
If you have never experienced the beach on a personal level, look at magazines dedicated to coastal destinations, or better yet, contact a Coastal Interior Designer to take all the guess work out of it for you!
Key Elements of Coastal Interior Design
Furniture

Coastal interiors and decorating on the beach mean different things to different people when it comes to choosing the furniture style. The most important thing is to keep the design casual and simple. Use materials such as reclaimed wood, bamboo or wicker furniture and keep in mind certain types of wood aren't recommended for ocean air. Try to incorporate stripes and patterns that relate to the beach. For example, use navy blue and crisp white for that nautical look. Linen fabrics are also a good choice for drapery and pillows.
Walls
Keep your wall colors light and airy. This will help bring the true coastal experience into your home. Soft color palettes work best for homes on the water. Although I don't typically like white walls…on the beach it gives you that clean, crisp feel. White also works well as an accent on such architectural details such as wainscoting.
Windows
Less is better when considering a coastal interior design style. However, if you are seeking privacy there are many window treatments available that can marry the two together nicely. White shutters are a good choice as they will not only compliment the wainscoting, but will also provide you privacy when needed.
Flooring
Stick with hard surfaces when decorating on the beach by using hardwood floors or tiles. Clean and simple and uncluttered is best. Lighter colors for hardwood and throw rugs will help bring the room together as well as hide the sand that may be tracked in from the beach.
Accessories
This is a great area to bring in the details of coastal interiors. Add small touches here and there that will bring these elements to life. Add a net, use some rope or bring in some shells. Stay on the lookout as you're walking on the beach…an old piece of driftwood that has weathered from the constant beating of the waves is a great accent. Use some live tropical plants such as giant birds of paradise or a kentia palm. Use images of sailboats or rope in your artwork as shown below.
Coastal Interiors, Coastal Interior Design and Decorating on the Beach
Some Inspiration for using Turquoise and Orange in Your Interiors
There's nothing like the combination of turquoise and orange to make a room come alive. Although not a color combination you see every day in the interior design world, if you want that pop of color, this just may be the color scheme for you. These two colors tend to take me to the beach. They also remind me of a Caribbean trip I took a few years back to Old San Juan, Puerto Rico with the vibrant exteriors of the homes there. So whatever it is, I'm drawn to it and when I find my perfect dream beach bungalow (pictured below…I wish!)…these two colors are going to get a room all to their own.
Turquoise

and

Orange

on the Beach
What a life! Can you imagine waking up here and having your morning coffee!? Here are a few beach inspired interiors using turquoise and orange…
I love the pale blue walls in this room with the black and white artwork. These two colors work great as just an accent against the bright white wainscoting and sofa. Gives it such a crisp and clean look.
This is a color palette from design-seeds.com. This is a great website to come up with some beautiful color palettes. This butterfly fish has all the colors in it to inspire and create a colorful beachfront retreat.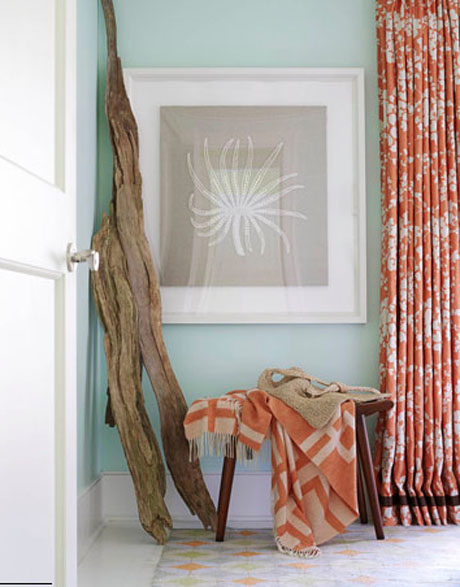 This is so beautiful! I'm liking the color of these walls too…with the embroidered sea fan on a piece of burlap in a shadow box as artwork. The driftwood gives it a natural and organic feel.
Another color palette inspired by a grouping of seashells.
This vignette has such an eclectic feel with the combination of unique pieces. The orange elephant legged console table stands out beautifully in front of the aqua blue and white striped walls. The seashell lamps give just a touch of a coastal feel.
A modern take on coastal interior design with the streamlined white lacquered console table and frames showcasing sea fans. Walls in a dark brown faux linen finish makes these lighter pieces really stand out.
Asian Fusion Interiors using

Turquoise

and

Orange
This bedroom design uses the color combination in a bold and vibrant way. Compared to some of the other interiors that go on the lighter more subdued end of the spectrum. I like both, and this room has a zen-like Asian flare with the use of the figurines and the pagoda style lamp base.
Here's an Asian inspired living room design, but this palette is much softer and serene looking. The Chinoiserie throw pillows are set atop a classic french style sofa covered in a casual burlap style fabric. The gold bamboo coffee table adds another element to the interior design.
Bedroom Interiors using

Turquoise

and

Orange
This bedroom design uses the blue on the walls and accents with orange pillows and drapery. Just enough without overdoing it.
This bedroom has a lot going on but I love the dark brown walls and the striped ceiling. It has a tropical feel with the palm linen print headboard and drapery, white caned bench at the end of the bed and the zebra rug.
A complete contrast to the previous bedroom design, this bedroom sets off the colors using the bright white walls and floors. Very clean, crisp and fresh!
This vignette brings the ocean inside with the use of shells on the table. The zebra ottoman introduces an African flare. Kind of a juxtaposition of styles but it works. Where's the turquoise you ask…I know…so we'll just say there's a drop of blue in the wall color! 😉
I absolutely love the color of this door! This is the type of vibrant color you see in Old San Juan, Puerto Rico. Again, I used the "Chip It" button to create the palette for this photo.


Another vibrant combination of these colors. Most of the rooms using this color palette do the turquoise on the wall but if you want to get bold try reversing it. This room looks like it wood be on the other side of the door above.


What a great painting to backdrop this white sofa. This is inspiring me to get out my canvases and paint! Just in case you're not inspired yet, here are a few mood boards to get you going…
Turquoise

and

Orange

Inspiration

Love the drapery in this room with the coral border design. Pillows with a great pattern and some gerber daisies to complete the look.
Turquoise

and

Orange

Fabrics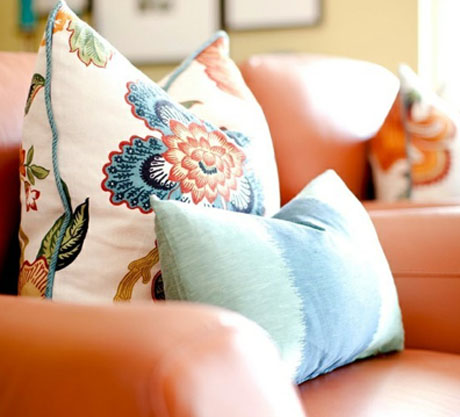 These fabrics are from the Indoor/Outdoor Taza Collection…a lot of great designs for your outdoor furniture.
So with all of this turquoise and orange inspiration, I know I'm ready to start a project using this color palette. Have you used these two colors in one of your projects? I'd love to see what you've done using these two beautiful colors.

Subscribe in a reader
Image Sources:

Pinterest

,

Houzz

,

House of Turquoise

, Morgan Harrison Home, Lonny, EJ Interiors, Emily Followill,

House Beautiful

,

Design Seeds

,

Elle Decor